Autos Paraguay
Dealer Advertising

Dealer Login - it is a powerful management system to organize and control your advertising campaign. You add a car in the Dealer Login system and it automatically goes to the most popular promotional platforms and classifieds. Then, just make a couple of clicks and you can determine which advertising platform is selling your cars more efficiently.
FREE is not a "Catch"! Well - not with "Dealer Login"!
Free website – see templates
Free top banner design
Free hosting
Free 24/7 technical support
Free data back up
Display your stock
Unlimited quantity of text pages
Easy & user-friendly CMS (Content Management System) / Control Panel
Feed your stock automatically to other websites with the touch of a button
FREE
website
Dealer Login website templates are technologically advanced allowing for first class SEO and Google indexing capabilities.

Dealer Login websites, unlike most other websites, are built on what Google and other search engines prefer and have a user friendly layout and structure that does what it should.

You no longer need to pay for a website!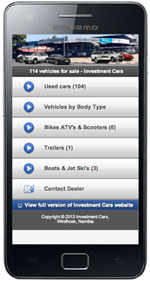 FREE
mobile version
Currently 25% of all leads are generated via mobile devices. For this reason all of our car dealer websites have a mobile version of the website and can be viewed from any Mobile device without losing quality or compromising any of the data.

You can check mobile validation of your current website and do a comparison with our free dealer sites here: validator.w3.org/mobile/
Feed your stock automatically for

FREE

The easiest way to automatically publish all your stock on prominent advertising portals in the Uganda market.

Using feeds to manage your stock saves time and resources. This means that once you upload a vehicle advertisement, it will automatically be displayed on all websites on the Dealer Login network.

Working with automatic feeds means reaching out to an extensive network where you can capture the widely dispersed car buyers that are searching for their car online right now.

Whether a car buyer searches for their car online via a search engine such as Google, via classified sites or dedicated car advertising portals Cars.co.ug, iCars.co.ug, you want your quality inventory to be visible everywhere.

Any changes (add, edit, delete) you make to your vehicle stock in the Dealer Login database will be frequently updated across all the other websites.

The best thing is that you won't have to manage several different medias anymore, as Dealer Login will do it all for you.
Registration Form